Eddy Current Array (ECA):
At TIR, we know that when it comes to pipeline crack detection, Magnetic Particle Inspection (MPI) is often used. However, MPI has known limitations and inefficiencies that include: surface preparation, manual length sizing, no depth sizing, and lack of digital data. Eddy Current Array (ECA) is a digital electromagnetic NDE technique that has proven to be a more efficient alternative.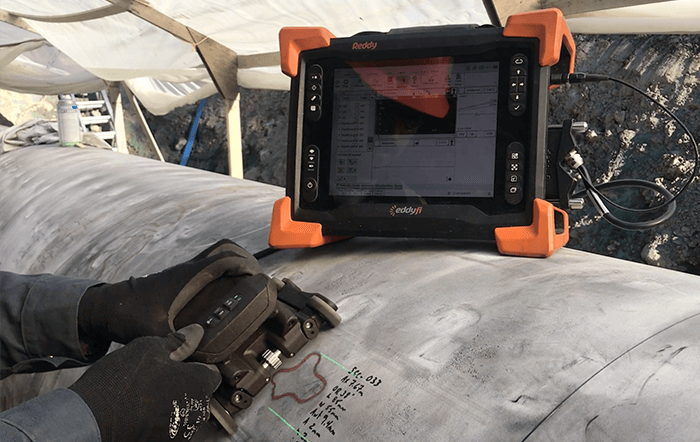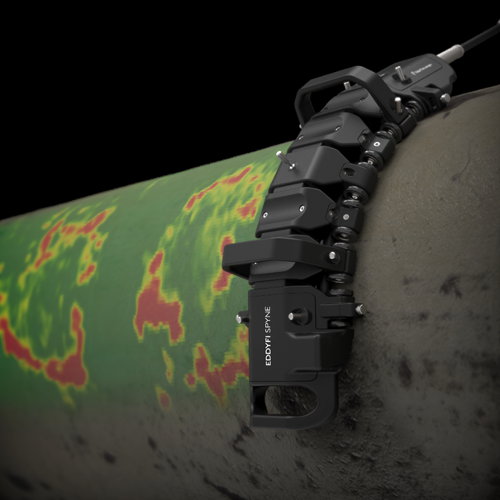 The Eddyfi SpyneTM is an adaptable surface ECA screening tool designed specifically to maximize productivity for the detection of stress-corrosion cracking (SCC), subsurface defects, and pitting in pipelines. With a higher PoD than MPI, its ultrafast capabilities pave the way to unprecedented efficiency. The SpyneTM works in combination with Reddy®, a rugged portable ECA instrument with a large multitouch screen displaying the color-coded maps (C-scans) generated by the tool.
PAUT instruments produce accurate, detailed cross-sectional pictures of internal structures at fast inspection speeds. PAUT technology uses multiple ultrasonic elements and electronic time delays to create beams that can be focused electronically for fast inspection, full data storage, and multiple angle inspections. PAUT technology provides precise measurement with the most reliable results. PAUT applications include manual and encoded weld scanning. Encoded scans offer extremely accurate sizing of weld flaws along with cross-sectional planar views of the entire encoded scan area.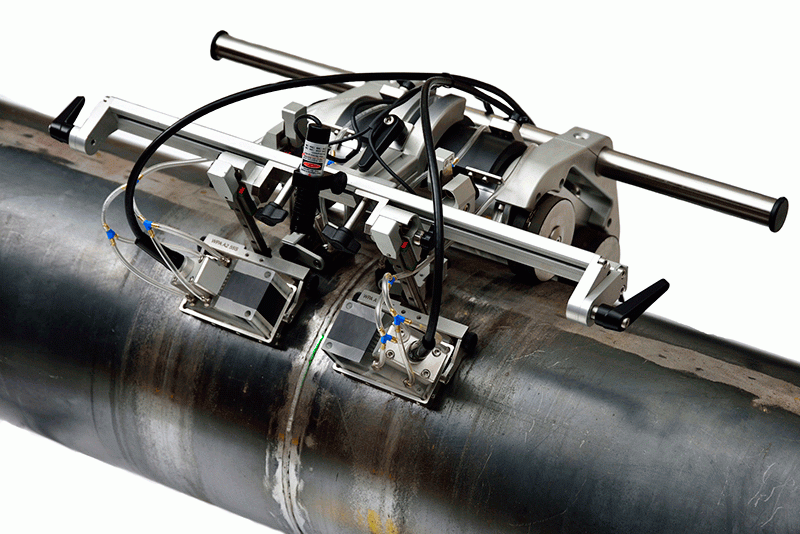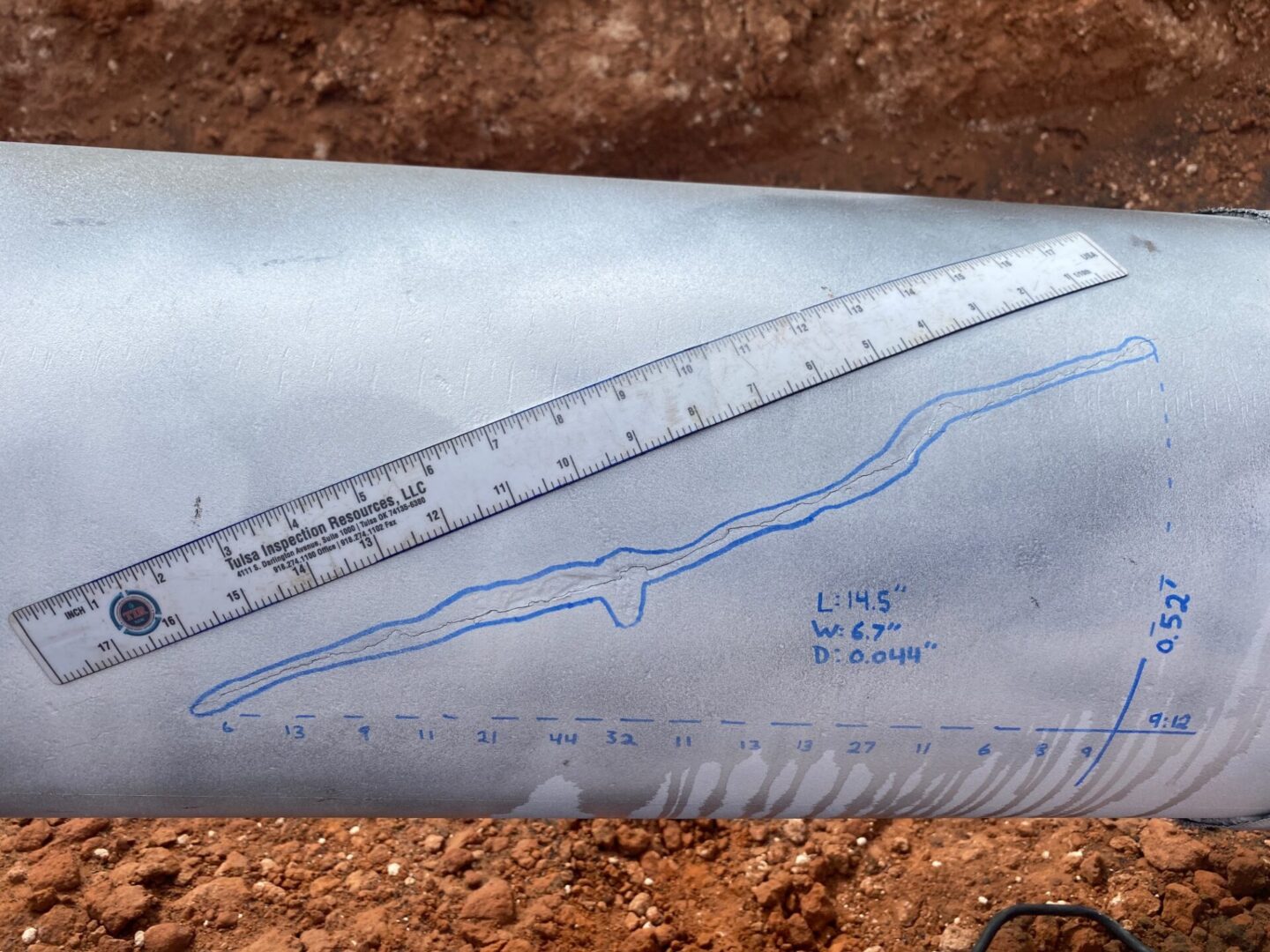 Automated ID/OD Corrosion Mapping:
PAUT corrosion mapping systems utilize 64 transducer elements versus conventional corrosion mapping systems, which typically have only one. This provides the accuracy of PAUT with an acquisition speed five times faster than that of conventional systems.
.
Conventional Non-Destructive Examination (NDE)
Capabilities:
Ultrasonic Testing and Shear Wave
Magnetic Particle
Dye Penetrant Testing
Pipe to Soil, Soil Resistivity, and pH
Pit Depth Gauging
MIC and Coating Inspection
Magnetic Particle Inspection (MPI):
MPI is a process for detecting surface and slightly subsurface discontinuities in ferroelectric materials such as iron, nickel, cobalt, and some of their alloys. The process puts a magnetic field into the test object. When the part is magnetized, flaws perpendicular to the magnetic field direction cause flux leakage. If a lapse or a crack is present, the magnetic particles will be attracted to the flawed area, a term known as an indication. Our experienced technicians will then evaluate the indication to assess the location, size, shape, and extent of these imperfections.
Ultrasonic Testing (UT Thickness and Shear Wave):
Conventional UT is widely considered the workhorse of the NDE industry. The most common applications of conventional UT include UT Thickness and Shear Wave. In UT Thickness applications, a single transducer (single or dual element) is used to measure the remaining wall thickness. Shear Wave is used to identify mid-wall defects, size internal defects, and characterize subsurface discontinuities. Our technicians are trained to locate, size, and evaluate volumetric discontinuities in welds, base metal, castings, and forging. Test results are highly repeatable and reliable. The minimum detectable flaw size is dependent upon the type of material being tested and the type of flaw under consideration.
Advanced Non-Destructive Examination (NDE)
Capabilities:
Eddy Current Array (ECA)

Eddyfi Spyne
Eddyfi Sharck

Creaform Laser Scanning
ECDA/ICDA
Optical Emission Spectroscopy (OES)
Phased Array UT (PAUT)
Automated UT (AUT)
Positive Material Identification (PMI)
TIR has Developed a PMI process which provides a Non-Destructive method of identifying both the chemical and mechanical properties of the material.
PHMSA's Final Rule effective May 16th, 2022 categorizes Type A, B, and C onshore gas gathering transmission lines while also defining criteria for insufficient material property records. In turn, certain measures must be taken by pipeline operators to obtain the following physical material properties:
  •   Grade (minimum yield strength and ultimate tensile strength of the pipe)
  •   Charpy V-notch toughness values.
The new rule aims to accurately identify asset materials and thus ensure the safe operation of onshore oil and gas pipelines.
  •  Proven and repeatable PMI process
  •  Provides Traceable, Verifiable, and Complete material properties for inclusion in the operators of "TVC records".
  •  Combines the relationship between chemistry, hardness, geometry, and microstructure of Ferrite/Pearlite, and metallic inclusions to determine the Ultimate Tensile Strength and Minimum Yield Strength of the tested material.
  •  Utilizes a proprietary material verification algorithm that has been verified by both internal and client trials.
  •  Avoids cutouts, line shutdowns, and hydro tests.
  •  Provides a reliable non-destructive "in-situ" pipeline analysis.
  •  Highly accurate and effective alternative to existing PMI technologies.
  •  TIR equipment and personnel are readily available.
  •  The TIR technicians are cross-trained and capable in the execution of our PMI method along with other "in-situ" NDE functions, namely UT, PAUT, MPI, Soil Resistivity/PH, Coating Inspection, External Corrosion Direct Assessment (ECDA), Internal, Corrosion Direct Assessment (ICDA).